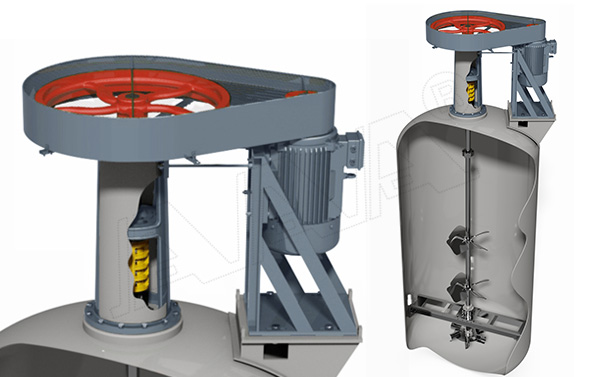 Main Feature
Power: To 630 kW(860HP)
Speed: 85~500 rpm
Torque: To 120000 N.m
Characteristics
> Technology: paddle
> Batch/continuous: batch
> Application domain: for the chemical industry
> Other characteristics: vertical, compact
Design Features
GMV series mixers are specially designed using V belts for power transfer instead of gears. Belt driver has the advantage of high cost performance, lower maintenance cost. The large-power belt drive mixers are specially designed for large fermentation tanks. Many successful installations prove that it is the right choice to replace gear drives for cost saving.
l Precision designed belt wheels provides compact structure and extra strength for longer life.
l High cost performance is suitable for cost sensitive projects.
l Lower maintenance cost compared to gearbox saves lots of money for running.
l Strong pedestal bearing design can resist large shock loads from impellers.
l Various seal types can be adopted to meet different requirements.
Applications:
The GMV series mixers can be used for most small to large size applications, from critical to routine.
Pharmeceutical (Fermentation)--------
Petrochemical---------