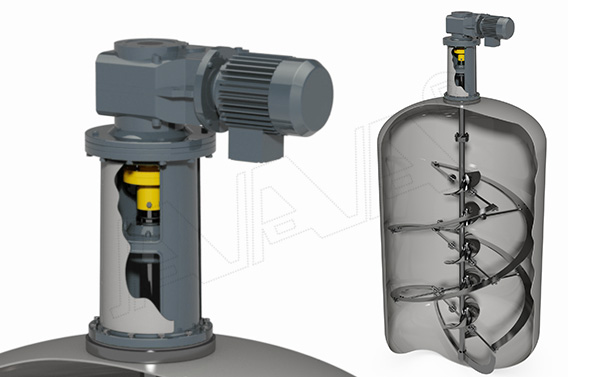 Main Feature
Power: To 1100 kW(1500HP)
Speed: 1~350 rpm
Torque: To 200000N.m
Bearings: Over 100,000 hours
Characteristics
> Technology: paddle
> Batch/continuous: batch
> For liquid-liquid,solid-liquid,gas-liquid,liquid-gas-solid
> Other characteristics: vertical, compact
Design Features:
GMR series is right angel gear driven top entry mixers. It has been proved in practically every process from critical reactor systems to routine mixing operations. The superb design,high manufacturing standards and excellent smoothness when operating assure long service life and maintenance at low cost. Further advantage is the low overall height.
Main Design Features:
Dry-well structure on shaft
Various seal types available
Robust pedestal bearing
Applications:
Chemical \ Pharmaceutical \ Food & Beverage \ Flue Gas Desulfurization (FGD) \ Mineral process \ Petrochemical \ Etc.